National Drive Electric Week
Brandon, FL
Sep 21, 2019
Day:
Saturday, September 21, 2019

NOTE: this event has already happened

, find current-year events on the Attend page.
Time:
10am - 2pm
Location:
Ford's Garage
11105 Causeway Blvd.
Brandon, FL 33511

Event Report
The
Tampa Bay EV Club
gathered local enthusiasts to share our passion for EVs with the general public, w
ith the support of local businesses Brandon Ford's Garage and Clarke Automotive
We enjoyed the visit of our
State Representative, Adam Hattersley
, who kindly came to show his support and to learn about the needs and relevance of electric vehicles. He met with EV owners and took the time to listen to the views and concerns of local EV owners.
The many energized and enthusiastic participants made this day a
genuinely amazing experience. They displayed different vehicles, with a collective driving experience of more than 500,000 miles, and were able to share personal details and stories about their cars, give rides to members of the public, and help educate non-EV owners about the many benefits and features of EVs. Being EV owners, they were able to answer numerous questions about EVs from a user perspective, providing honest and unbiased assessments of the benefits and limitations of EVs, how do they work and what their experience has been with them.
We had Tesla,
Nissan Leaf and Chevy Bolt and Chrysler Plug-In Hybrid models in attendance.
We enjoyed the strong spirit of camaraderie in a festive environment and plan to keep on getting together again to repeat these events in the near future.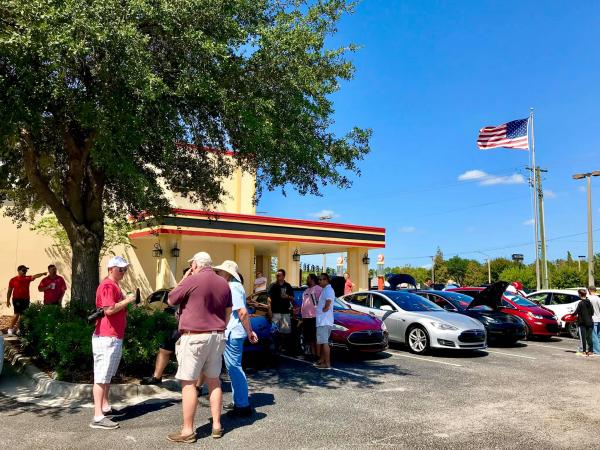 photo by: Tampa Bay EV Club


Some of the Nissan Leaf, Tesla and Chevy Bolt models displayed at the event.
Event Description
Join us to celebrate National Drive Electric Week. Learn about the benefits of driving electric, talk to owners, and check out EVs! Driving Electric is more fun, more convenient, and less expensive than driving a gas car.
Find out more at the largest ever gathering of electric vehicles in Hillsborough County at Brandon Ford's Garage.
Registered Attendees
There are currently 36 attendees registered.
Owners of These Vehicles Have Registered To Attend
| | |
| --- | --- |
| Vehicle | Registered |
| Tesla Model 3 | 9 |
| Tesla Model S | 3 |
| Chevrolet Bolt | 1 |
| Chrysler Pacifica Plug-in Hybrid | 1 |
| Fiat 500e | 1 |
| Nissan Leaf (2011-2017) | 1 |
| Nissan Leaf (2018+) | 1 |
| 7 Models | 17 |
Registered attendees report 563,760 electric miles driven.
In the News…