National Drive Electric Week
Bordentown, NJ
Sep 22, 2019
Day:
Sunday, September 22, 2019

NOTE: this event has already happened

, find current-year events on the Attend page.
Time:
9-1pm
Location:
Carslake Community Center
207 Crosswicks St
Bordentown, NJ 08505

Event Report
Bordentown City's first National Drive Electric Week event was a huge hit! Sunday, 9/22, presented us with the most amazing weather and absolutely incredible turn out by EV enthusiasts, owners, dealers, NJ DEP, NJCEP, and GreenSpot. Collaborating with our local farmers' market was brilliant because there were folks from in and around town who stopped by to pick up their farm fresh produce, delicious baked treats, or breakfast/lunch from food vendors, and strolled on over to the EVs to chat with local owners about what made them switch, what financial incentives they received, the performance of EVs, etc. The goal of bringing awareness of and education on EVs to the community was crucial, but being able to showcase how tightly knit the community of EV owners is and that buying one makes you part of a larger family was a total bonus! Overall, it was the perfect first event and we're excited and energized to make next year even bigger and better.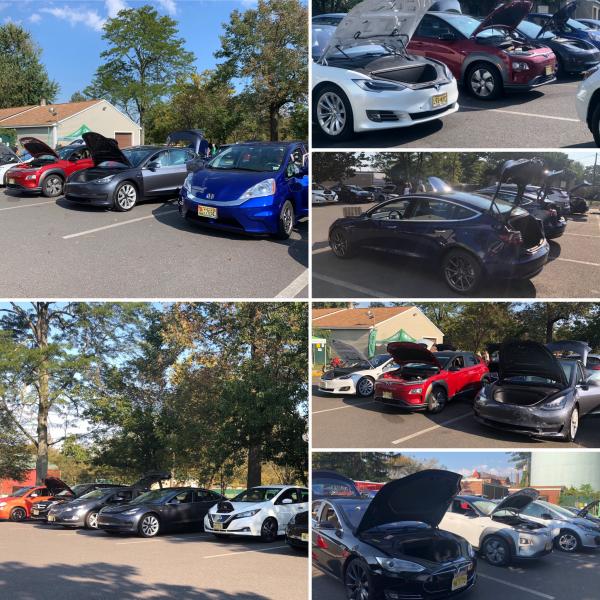 photo by: Sruti Desai


All of the EVs at Bordentown City's first ever National Drive Electric Week event on 9/22!
Event Description
All attendees and volunteers are required to wear face masks whenever they are within six feet of another person at all National Drive Electric Week 2022 events. Please see this information about how to improve how your mask protects you. For more information, see our in-person event safety requirements.
Bordentown City Environmental Commission and Green Team are teaming up to host their first event as part of the National Drive Electric Week. They will be partnering with the Bordentown City Farmers' Market to host the event during market hours from 9AM-1PM on Sunday, September 22nd at Carslake Community Center. The location offers ample open space for test drives, parking lots for EVs to be in display, food trucks, farm fresh produce to further push sustainability efforts, and live music by local artists in the community!
Registered Attendees
There are currently 71 attendees registered.
Owners of These Vehicles Have Registered To Attend
| | |
| --- | --- |
| Vehicle | Registered |
| Tesla Model 3 | 7 |
| Tesla Model X | 3 |
| Hyundai KONA Electric | 2 |
| Zero Motorcycle | 2 |
| BMW i3 REx | 1 |
| Chevrolet Bolt | 1 |
| Chevrolet Volt | 1 |
| Fiat 500e | 1 |
| Honda Fit EV | 1 |
| Mercedes-Benz B-Class Electric Drive | 1 |
| Nissan Leaf (2011-2017) | 1 |
| Nissan Leaf (2018+) | 1 |
| Other Plug-In Vehicle | 1 |
| Tesla Model S | 1 |
| Toyota RAV4 EV (2012 and later) | 1 |
| 15 Models | 25 |
Registered attendees report 649,205 electric miles driven.